Revelation. 6:6:...hurt not the oil...
Updated 10/14/6990* [5770] 6th day of the week (01/01/10)
Updated 01/02/6991* [5770] 6th day of the week (03/19/10)
Updated 01/06/6992* [5771] 1st day of the week [04/10/11]
Updated 06/11/6992* [5771] 1st day of the week [09/11/11]
Updated 01/17/6993* [5772] 2nd day of the week [04/09/12]
Updated 02/13/6994* [5773] 4th day of the week [04/24/13]
Updated 04/05/6995* [5774] 6th day of the week [07/04/14]
Updated 06/07/6995* [5774] 4th day of the week [09/03/14]
Updated 06/25/6996* [5775] 2nd day of the week [09/07/15]
*Time has been set back one year to adjust for House of Yudah's membership into the UN in 1949 CE. Originally I had the time set at 1948 CE when they became a nation, but I see now that they did not put themselves under the Babylonian king's thumb until 1949 CE. In Yirmiyah 25:12 and Daniy'Yah 9:2, YaHVeH has established a 70 year time line for the king of Babylon to be destroyed.
1 Corinthians: 13:12: For now we see through a glass, darkly; but then face to face: now I know in part; but then shall I know even as also I am known.
Revelation/Raz Galah/Secrets Revealed:6:5: And when he had opened the third seal, I heard the third beast say, Come and see. And I beheld, and lo a black horse; and he that sat on him had a pair of balances in his hand.
Re:6:6: And I heard a voice in the midst of the four beasts say, A measure of wheat for a penny, and three measures of barley for a penny; and see you hurt not the oil and the wine.
Ya'akob/James:5:1: Start now, all you rich men, weep and howl for your miseries that shall come on you.
Ya'akob:5:2: Your riches are corrupted, and your garments are moth eaten.
Ya'akob:5:3:Your gold and silver is cankered; and the rust of them shall be a witness against you, and shall eat your flesh as it were fire. You all have heaped treasure together for the last days.
Ya'akob:5:4:Behold, the hire of the laborers who have reaped down your fields, which is of you kept back by fraud, cries: and the cries of them which have reaped are entered into the ears of YaHVeH of sabaoth.
Ya'akob:5:5: You all have lived in pleasure on the earth, and been needless; you all have nourished your hearts, as in a day of slaughter.
Ya'akob:5:6: You all have condemned and killed the just; and he does not resist you.
Yirmi'Yah/Jeremiah:13:21: What will you say when HE shall punish you? for you have taught them to be captains, and as chief over you: shall not sorrows take you, as a woman in travail?
Yasha'Yah/Isaiah 1:23 Your princes are rebellious, and companions of thieves: every one loves gifts, and follows after rewards: they judge not the fatherless, neither does the cause of the widow come to them.
T`hiyliym/Psalms:83:3: They have taken crafty counsel against YOUR people, and consulted against YOUR hidden ones.
Revelation:13:1: And I stood upon the sand of the sea, and saw a beast rise up out of the sea, having seven heads and ten horns, and upon his horns ten crowns, and upon his heads the name of blasphemy.
Daniel:11:44: But tidings out of the east and out of the north shall trouble him: therefore he shall go forth with great fury to destroy, and utterly to make away many.
Revelation:9:14: Saying to the sixth malak which had the trumpet, Loose the four malakiym which are bound in the great river Euphrates.
Re:9:15:And the four malakiym were loosed, which were prepared for an hour, and a day, and a month, and a year, for to slay the third part of men.
Re:9:16: And the number of the army of the horsemen were two hundred thousand thousand: and I heard the number of them.
Remember, I see these events now happening and the seals and trumpets are now being open and blown. I believe the seals and trumpet began to be open and blown in the last 7 years of the 70 years mentioned in Yirmi'Yah 25:12 and Daniy'Yah 9:2. We are now in "the beginning of sorrows", which precedes the "Great Tribulation"/"Ya`akob`s Trouble".
Read articles:
74: http://www.makethewaystraight.com/74theflamingsword.htm
83: http://www.makethewaystraight.com/83thelast7yearsof70.htm
85: http://www.makethewaystraight.com/853rdsealandtrumpet.htm
Iraq Demands Control of Kurdish Airports, Oil Revenues Following Independence Vote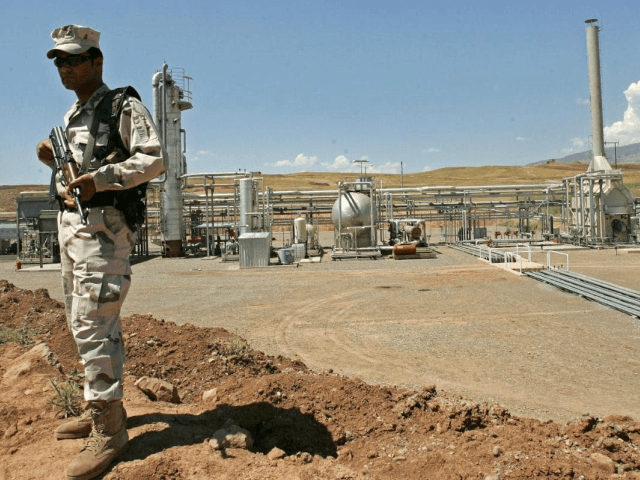 by Frances Martel27 Sep 2017
http://www.breitbart.com/national-security/2017/09/27/iraq-orders-kurdistan-surrender-airports/
Iraqi Prime Minister Haider al-Abadi announced Tuesday via Twitter that Baghdad would seek full control of all airports, land crossings, and oil revenues under the Kurdistan Regional Government (KRG) by Friday, threatening to seize them if Erbil does not comply with the order.
The move is a response to the Kurds' overwhelming "yes" vote to secede from Iraq on Monday in a referendum the Iraqi government asserts is illegal. Nations with significant Kurdish populations, like Iran and Turkey, have come out in support of Baghdad, while Israel stands as Kurdistan's lone neighbor supporting their campaign for sovereignty.
The KRG is located in the nation's north and its military, the Peshmerga, have played a key role in combating the Islamic State.
"We will not compromise on Iraq's unity or sovereignty. Iraq is strong. Some wanted to weaken it. They have miscalculated," Abadi said. "Oil revenues in Iraqi Kurdistan must be returned to the control of the federal authorities. All land & air border-crossings in Iraqi Kurdistan must be returned to federal jurisdiction within [three] days."
"Iraq will suspend international flights to [and] from the Kurdistan region if this order is not implemented," Abadi warned.
Al Jazeera notes that such a suspension would not apply to domestic flights, as the intent of the measure is to flex the muscles of a sovereign Iraq and take full control of who enters and exits Kurdistan, treating it as an Iraqi state. Similarly, those in Kurdish territory will continue to be allowed to travel within Iraq but, if the KRG does not dismiss the referendum by Friday, they will not be able to enter or exit Kurdistan outside of entering Iraq without Baghdad's approval.
Some nations have preempted Abadi's call for an end to international flights to Kurdistan. Iran, for example, has already implemented a ban on international flights to and from the territory. Lebanon's Middle East Airlines (MEA) and EgyptAir will implement a similar embargo beginning Friday to comply with Abadi's wishes.
Kurdish officials have responded to the move with confusion, urging Abadi to explain what he would like the KRG to do to prevent the imposition of an international air embargo. "We want more clarifications from the Iraqi government on its demand to hand them the two airports, because we don't understand how to give them the two airports, when they are already subject to the Iraqi Civil Aviation Authority," Kurdish Transport Minister Mawloud Bawah Murad said, noting that the Erbil and Sulaimaniyah airports in Kurdistan were built with Kurdish, not Iraqi, funding. Nechirvan Barzani, the premier of Kurdistan, accused Abadi of "the collective punishment of all the people of Kurdistan" and compared Abadi to Saddam Hussein's Revolutionary Command Council." Hussein killed tens of thousands of Kurds in chemical attacks later deemed genocide by an Iraqi court. He invited Abadi to visit the airports in question, adding, "we have nothing to hide."
Masoud Barzani, the president of Kurdistan, has requested that Abadi engage in dialogue with the KRG on how to divorce the two territories most painlessly. Following the execution of the Kurdistan referendum, however, Abadi declared Monday that he would not "discuss or have a dialogue about the results of the referendum because it is unconstitutional," despite the fact that Kurdish officials have insisted that they will not immediately attempt to exit Iraq but instead use the referendum as a mandate to begin the process of establishing a sovereign nation. In his speech Monday, Abadi claimed "the economic and financial problems the region is suffering from are the result of corruption and mis-administration."
While the U.S. State Department has opposed the referendum, spokeswoman Heather Nauert told reporters Tuesday that the flight ban would "not be an example of engaging constructively" and encouraged Abadi and the KRG to "come together and have some conversation and be able to move things forward, but do it in a constructive fashion."