Dabariym/Deuteronomy: 32:8… HE set the bounds of the people according to the number of the benniym/children of Yisrael.
09/29/6997* [5777] 3rd day of the week/sundown [12/26/16]
*Time has been set back one year to adjust for House of Yudah's membership into the UN in 1949 CE. Originally I had the time set at 1948 CE when they became a nation, but I see now that they did not put themselves under the Babylonian king's thumb until 1949 CE. In Yirmiyah 25:12 and Daniy'Yah 9:2, YaHVeH has established a 70 year time line for the king of Babylon to be destroyed.
1 Corinthians: 13:12: For now we see through a glass, darkly; but then face to face: now I know in part; but then shall I know even as also I am known.
Scripture is taken from KJV and Revised Standard and edited to remove blasphemous names (Rev. 17:3), words and titles and to give a more Iybriy/Hebrew rooted understanding; edited also because the "Mother of Harlots" has inserted these names to cover up the names of YaHVeH/יהוה and HIS Ben Yahvshua/יהושׁוּע, and to counterfeit a Babylonian Greco-Roman "god", "lord" "Jesus" "Christ"…etc. and promote its demonic idolatrous pagan customs and "holidays" by replacing YaHVeH's Sabbaths (Dan. 7:25).
Dabariym/Deuteronomy: 32:8: When the MOST HIGH/ELYON divided to the nations their inheritance, when HE separated the benniym of Adam, HE set the bounds of the people according to the number of the benniym/children of Yisrael.
Acts: 17:26: And has made of one blood all nations of men for to dwell on all the face of the earth, and has determined the times before appointed, and the bounds of their habitation;
Daniy`Yah: 11:39: Thus shall he do in the strongest fortifications with a strange eloahh, whom he shall acknowledge and increase with splendor: and he shall rule over many, and shall divide the land for gain.
Yeshayah: 10:13: For he said, by the strength of my hand I have done it, and by my wisdom; for I am prudent: and I have removed the bounds of the people, and have robbed their treasures, and I have put down the inhabitants like a valiant man:
Yahvel/Yael/Yoel: 3:1: for observe, in those days, and in that time, when I shall bring again the captivity of Yahudah and Yahvshalam,
Yahvel: 3:2: I will also gather all nations, and will bring them down into the valley of Yahvshaphat, and will plead with them there for MY people and for MY heritage Yisrael, whom they have scattered among the nations, and parted MY land.
Yahvel: 3:3: And they have cast lots for MY people; and have given a boy for a harlot, and sold a girl for wine, that they might drink.
Yahvel: 3:4: Yes, and what have you all to do with ME, O Tyre, and Ziydon, and all the coasts of Palestine/Pelesheth? Will you all render ME a recompence? And if you all recompense ME, swiftly and speedily will I return your recompence on your own head;
Yahvel: 3:5: Because you all have taken MY silver and MY gold, and have carried into your temples MY precious desire:
Yahvel: 3:6: The children also of Yahudah and the children of Yahvshalam have you all sold to the Grecians/Yevaniy, that you all might remove them far from their border.
Yahvel: 3:7: Observe, I will raise them out of the place where you all have sold them, and will return your recompence on your own head…
Hungary Takes NY Times to School on Europe's Migrant Crisis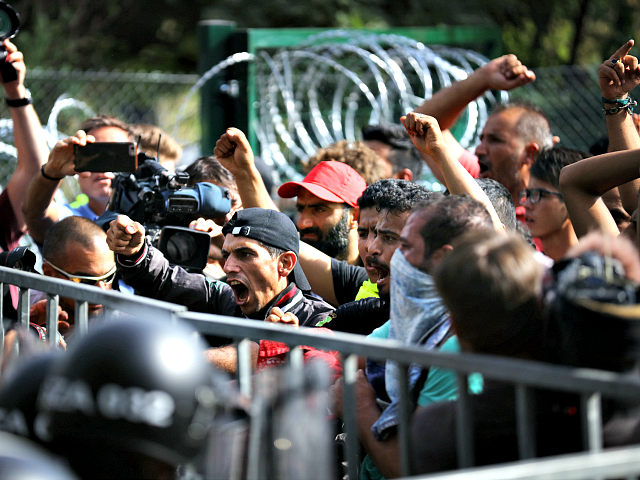 Christopher Furlong/Getty
Illegal immigrants invading Europe

http://www.breitbart.com/big-government/2017/09/13/hungary-takes-ny-times-to-school-on-europes-migrant-crisis/
by Thomas D. Williams, Ph.D.13 Sep 2017
Hungary's government spokesman has laid into the New York Times for a sanctimonious op-ed rife with errors and misconceptions regarding Europe's migrant crisis and Hungary's role in protecting Europe's borders.
On September 8, the New York Times Editorial Board published an opinion piece titled "Hungary Is Making Europe's Migrant Crisis Worse," which censured Hungary for its "inhospitable attitudes" toward migrants, while also excoriating President Trump for his "scandalous example" on immigration and dissing Britain's Brexit vote to leave the European Union.
In his written reply to the Times' editors, government spokesman Zoltán Kovács takes issue with the newspaper's presumption in trying to teach Europeans how to solve their migrant crisis while continuing "to show just how much they don't understand."
The editors' casual references to international law and European values may appeal to the "limousine liberal" readership of the Times, Kovács notes, but it displays an astonishing ignorance regarding Europe's real situation. "There is no international law, no European treaty that gives Brussels the authority to decide on immigration," he said.
"To begin, let's get something straight about borders," Mr. Kovács writes, since a country that is unable to protect its borders "is no country at all."
"The Orbán Government has built a fence on the southern border of Hungary because it's an external border of the European Union's Schengen Area," Kovács adds.
"It was not simply 'to tighten his border,' as they say, but to defend Europe and uphold treaty obligations, which include preventing illegal immigration into the EU. Maintaining the security and integrity of the borders of the Schengen zone, the borderless area that allows freedom of movement, is essential to the EU's security and the workings of the internal market," he notes.
The spokesman found particularly irksome the Times' presumptuous attempt to lay out guidelines for European action "from the comforts of Midtown Manhattan," and in particular the following paragraph, which he quotes in full:
it is incumbent on Europe to continue to look for humanitarian solutions, whether by helping to resolve the conflicts or ease the poverty that drive people to flee, or by making room for those who reach its shores. That effort and burden must be shared, and it must be based on international law and European values, which include tolerance, cultural diversity, protection of minorities and a rejection of xenophobia.
In point of fact, Kovács notes, proposals like Brussels' mandatory migrant resettlement quota are making the migration crisis worse by continuing to encourage illegal migration.
Citing Prime Minister Viktor Orbán, he said that Hungary contests "the policy of Brussels that wants to settle anyone in a Member State against the will of the nation states." Only Hungary has the right to decide on who gets to live in Hungary, he added.
"Here in the real world, on the front lines of the migration crisis, an overwhelming majority of Hungarian citizens want their own government – not Brussels – to make decisions on immigration (same is true for most European citizens)," Kovács said.
"As the government responsible for the safety and security of Hungarian citizens – as well as the citizens of Europe – we will not apologize for continuing to assert our right to make our own decisions on immigration and to keep Europe's borders strong," he concludes.